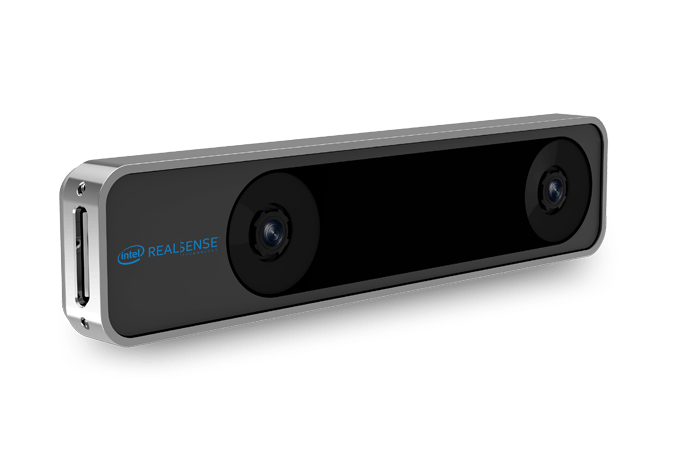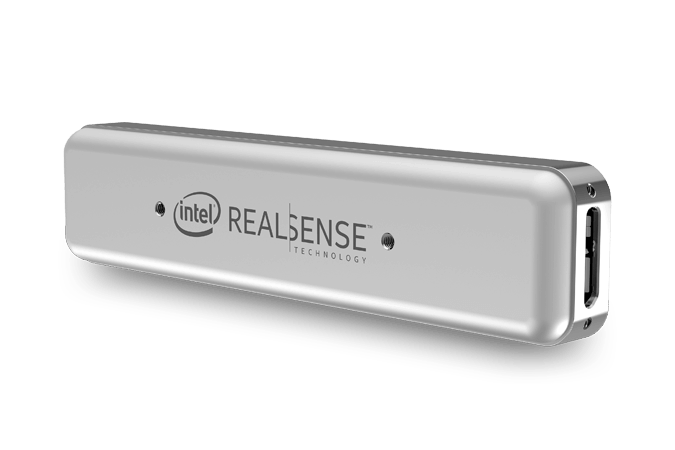 Intel® RealSense™ Tracking Camera T265
With its small form factor and low power consumption, the Intel® RealSense™ Tracking Camera T265 has been designed to give you the tracking performance you want straight off‑the‑shelf. Cross‑platform, developer friendly simultaneous localization and mapping for all your robotics, drone and augmented reality rapid prototyping needs.

Low power.
Featuring highly optimized proprietary V‑SLAM algorithms running directly on the device, it operates at an incredible 1.5W.

Precision tracking.
Extensively tested and validated for performance, providing under 1%1 closed loop drift under intended use conditions.

Small and Light.
At 108 x 25 x 13 mm in size and weighing only 55 g, this device won't weigh your prototype down.
SLAM, or Simultaneous Localization and Mapping, is a computational problem – how does a device construct or update a map of an unknown environment while simultaneously keeping track of it's own location within that environment? Before the days of GPS, sailors would navigate by the stars, using their movements and positions to successfully find their way across oceans. V‑SLAM uses a combination of cameras and Inertial Measurement Units (IMU) to navigate in a similar way, using visual features in the environment to track it's way around even unknown spaces with accuracy.
The Intel® RealSense™ Tracking Camera T265 includes two fisheye lens sensors, an IMU and an Intel® Movidius™ Myriad™ 2 VPU. All of the V‑SLAM algorithms run directly on the VPU, allowing for very low latency and extremely efficient power consumption. The T265 has been extensively tested and validated for performance, providing under 1% closed loop drift under intended use conditions. It also offers sub 6ms latency between movement and reflection of movement in the pose. This is fast enough for even highly‑sensitive applications such as Augmented and Virtual Reality.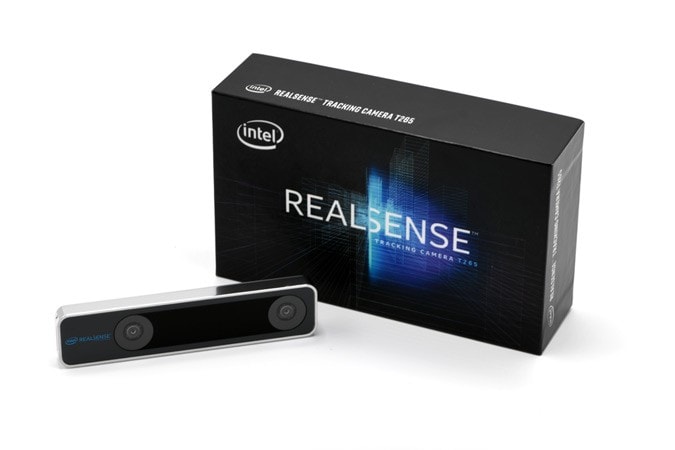 Robotics navigation, occupancy mapping and collision avoidance demo.
Robotics navigation, occupancy mapping and collision avoidance demo.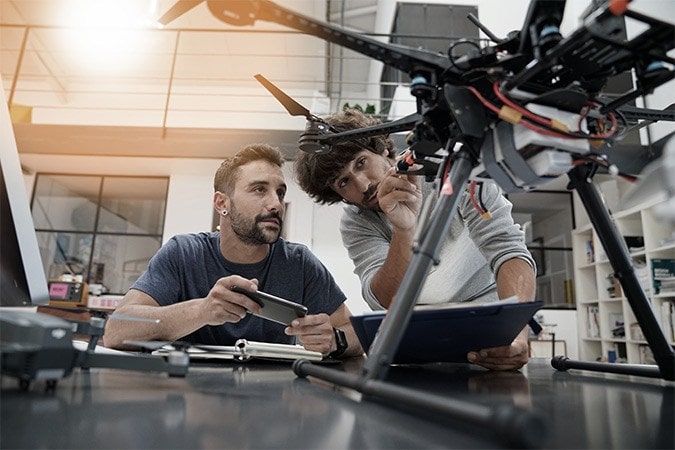 Simple and versatile prototyping
For developers working on a robotics, drone or augmented reality systems, SLAM can be challenging to implement – requiring significant time and resources in order to add valuable environmental understanding. With the T265, developers can now have precise and robust tracking that has been extensively tested in a variety of conditions and environments. This self‑contained tracking system is designed for simple integration. There's no need to re‑design your board, simply plug in the provided USB cable and start streaming pose data straight away. The T265 also features an easy mounting solution, with standardized mounting sockets on the rear of the camera.
While there are many use cases for a stand‑alone T265, it is definitely a part of the Intel® RealSense™ Technology family, and has been designed to work flawlessly along‑side our other devices. The T265 features an infrared cut filter over the lenses, allowing it to ignore the projected patterns from our D400 series depth cameras. This means that developers can utilize both devices together with ease for advanced applications such as occupancy mapping or collision avoidance and navigation in locations where GPS data isn't available.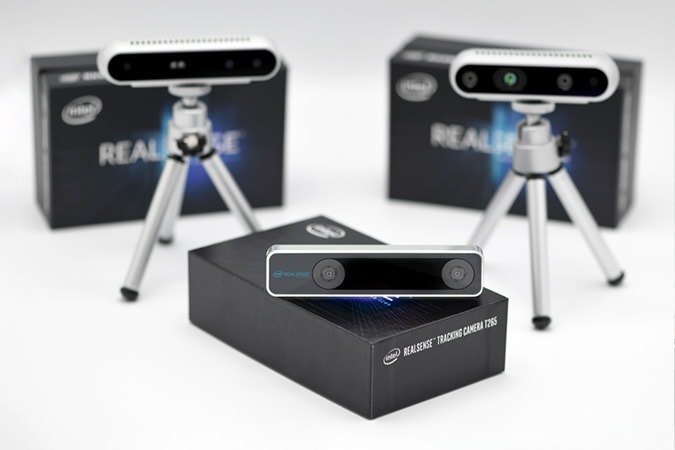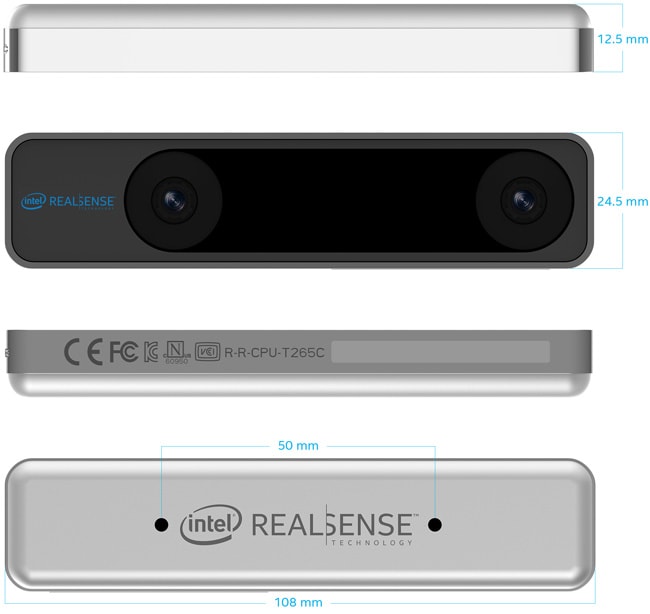 V‑SLAM, part of Intel® RealSense™ Technology
High precision Visual Inertial Odometry Simultaneous Localization and Mapping algorithms.

Intel® Movidius™ Myriad™ 2.0 VPU
Visual Processing Unit optimized to run V‑SLAM at low power.

Two Fisheye lenses with combined 163±5° FOV
The camera includes two OV9282 imagers with fisheye lenses for a combined, close to hemispherical 163±5° field of view for robust tracking even with fast motion.
BMI055 IMU
The Inertial Measurement Unit, allows for accurate measurement of rotation and acceleration of the device, to feed into the V‑SLAM algorithms.
USB 3.1 Gen 1 Micro B
USB 2.0 and USB 3.1 supported for either pure pose data or a combination of pose and images.
108 x 24.5 x 12.5 mm
Small form factor designed to mount on any device with ease.
2 x M3 0.5 mm pitch mounting sockets
Securely attach the camera to your device with these standard mounting points on the rear of the camera.
Frequently Asked Questions
Start developing with Intel RealSense SDK 2.0
Our open‑source SDK 2.0 offers a variety of wrappers supporting popular programming languages and platforms.

Get the latest Intel RealSense news, product updates, event and webinar notifications and more.
Stay informed about the latest trends and products in the computer vision industry.
Getting started is fast and easy
Our How-Tos and video tutorials cover everything from basics to advanced techniques.
1. Under 1% drift observed in repeated testing in multiple use cases and environments. AR/VR use cases were tested with the T265 mounted on the head in indoor living and office areas with typical indoor lighting including sunlight entering the room. Wheeled robot use cases tested with wheel odometer data integrated, again in indoor office and home environments.
2. Sufficient visibility of static tracked visual features is required, the device will not work in smoke, fog, or other conditions where the camera is unable to observe visual reference points.
Let's talk about how Intel RealSense computer vision products can enhance your solution.